(Editorial Note: Readers are invited to weigh in on the 64,000 dollar question: Is Alex Jones some sort of shill?)
Inflammatory radio host Alex Jones is besieged with lawsuits brought by Sandy Hook parents who claim to be "defamed" by the content of his broadcasts. America's loudest rant monger appears to be fulfilling a central role in a broader play that could seriously undermine the First Amendment.
Most recently Jones, who maintain via his counsel that the Newtown massacre itself was genuine, has agreed to defray the plaintiffs' court costs for bringing suit in Texas should the judge find it frivolous. Concurrently media platforms including YouTube, Facebook and Spotify are now censoring "Infowars" for purported "hateful" content.
Jones' ex-wife and conflict-of-interest show boater Kelly Jones is allying with parents of the children who are reported to have died in the 2012 school shooting by picketing an August 1st Texas court hearing with a sign reading, "Texans For Sandy Hook Justice," NBC News reports.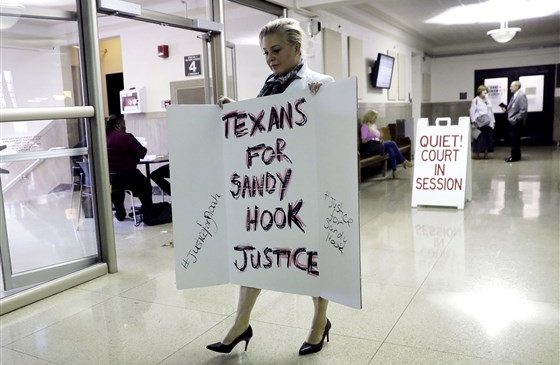 These people not only lost their children in the most horrible way that you can imagine – I mean, unspeakable – but they've been harassed by his audience. They've had to move houses. They had people come up to them and say that their children didn't even exist.
As this storyline goes, while the Sandy Hook parents lost their children in December 2012 Kelly Jones saved hers from America's most prominent career "conspiracy theorist."
A deeper dimension to this unfolding scenario is the fact that both Kelly Jones, Jones' children, and the parent-plaintiffs squaring off against Alex in Texas are Jewish.
This aspect of the saga would not be worth noting at least in passing if not for the fact that certain Jewish-led "civil right groups," including as the Anti-Defamation League and Southern Poverty Law Center, have long-sought to topple the American ideal of free speech ensconced in the First Amendment.
These interests and the powerful forces they represent would much rather have the United States temper free speech rights by taking away the rights of those expressing "hate speech," which in reality translates to any political speech the deep-pocketed sponsors of such groups deem undesirable.
One way to seriously cripple if not eliminate free speech is via a "Trojan horse" like Alex Jones. Despite the swaggering Texan's professed expertise in conspiracy investigation Jones cannot seem to make heads nor tails of the Sandy Hook massacre.
But that's not all. Jones has been caught censoring actual researchaddressing the event, and through this ham-fisted performance has set himself up to take the fall that will likewise bring down US free speech rights.

As we've recently stated,
the broadcaster has waffled so much on Sandy Hook that it's difficult not to believe that he isn't a pre-designated foil in a broader play to defeat what's left of speech freedoms in the United States.
There is a well-known theory that 1980s comedian Bill Hicks faked his unusual death from pancreatic cancer at the age of 32 (pseudocide) and has ever since been playing the character Alex Jones since the mid-1990s. Although the idea seems far-fetched, the fact is that celebrities with substantial means have "faked their deaths" for many years to assume a new life and identity.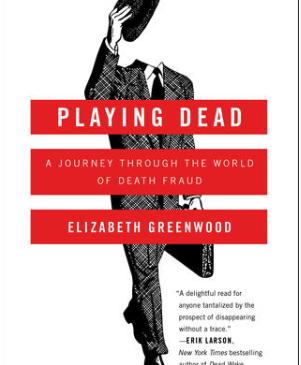 "Some people fake their death to avoid jail or get away with a crime" according to Psychology Today. "Others want to escape debt, a stalker, or a burdensome relationship."
"'If you want to disappear and do it right,'" writes author Elizabeth Greenwood,
"the planning is not for the faint of heart, or the careless." She proves this throughout her book. The question for those who want to reinvent themselves is whether they can ever completely leave their lives behind. Many think they can do it for a period of time, but expect to pick it back up at some point. To really be successful at pseudocide, though, it seems one must be able to walk away—and stay away—from everything. This includes family, medical records, bank accounts, social media, cars, and your reputation as an honest person.
Even Vice News calls pseudocide "a timeworn tradition" among the laity. Is this also the case with the victims of mass casualty events … and perhaps the successful radio persona whose attorney admits is "a performance artist playing a character"? If by chance Alex Jones is Hicks' invention he could not have pulled this stunt off for two decades without certain lettered agencies' complicity. And for this he is indebted to them.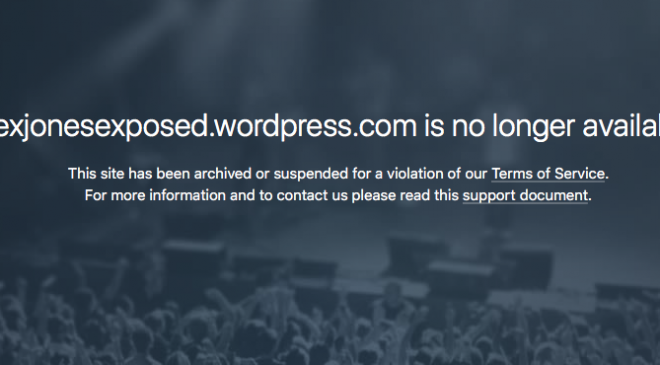 If one is going to file a civil claim that someone's speech is actionable then it is tremendously helpful to have a "friendly" defendant. Just ask German-born  journalist Richard Gutjahr, who is closely alliedwith the Sandy Hook parents bringing suit against Alex Jones in Texas. Gutjahr says he was encouraged by "Sandy Hook parent" Lenny Pozner and supports the lawsuit against Jones. Gutjahr is of the litigious sort, of which more below.
As some may recall, Richard Gutjahr is so anxious for a scoop that he was present to document both the July 14, 2016 "Nice truck attack" and  the July 22, 2016 "Munich shooting."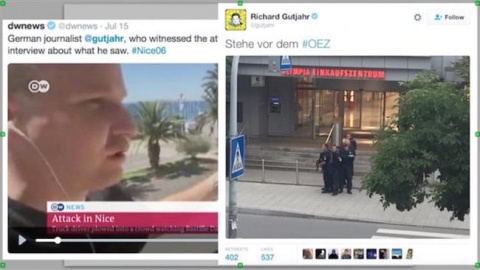 Gutjahr's wife, Israeli-born Einat Wilf, is an outspoken Harvard and Cambridge-educated foreign policy advisor to former Israeli Prime Minister Shimon Peres. Wilf's additional credentials include serving as a lieutenant in the Israeli Defense Forces' intelligence division and fulfilling a partial term in the Knesset.
Thus it is perhaps ironic that both Gutjahr and Pozner have wives capable of potentially operating under intelligence cover and likely even diplomatic immunity if necessary. We have been apprised, for example, by parties with considerable investigative capacity that it is close to impossible to ascertain the actual background of one "Veronique De La Rosa."
Along these lines, more than a few individuals have preferred the compelling and plausible notion that Jones is in fact an imposter, and thus a double agent of sorts.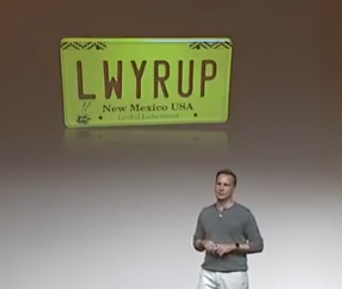 Lenny [Pozner] and I, we talked many, many times online, and he told me about the so-called "truthers," the so called "hoaxers." People who get a kick out of it, to have that power over other people. And who actually also get paid for their 'work' by YouTube.
Now Lenny told me, "Look, Richard, you can either continue whining, or you start to get back on your feet and start fighting [sic]. It's gonna be hard, it's gonna be long, it's gonna be painful, but you can actually do something against them. And so I did. [Applause.]

Not on-only I took one lawyer, I took two lawyers [sic], and from that day on they took care of Facebook and of Google. We keep on, like, telling them, "This is wrong, this is wrong. We have this court order, this court order. So we're really a pain in the neck. And you know what? It feels really good to have somebody speaking up for you-finally.
Despite the fact that Gutjahr is "lawyered up," he can't seem to prevail in court. Earlier this year the ubiquitous journalist suffered a stinging defeat after suing independent German investigative journalist Gerhard Wisnewski in the district court of Cologne. The reason? Wisnewski pondered whether Guthahr's presence at both the Nice truck attack and Munich shooting was coincidental, or may have involved some type of foreknowledge.
Gutjahr's extravagant complaint suggested that Wisnewski's reporting on possible prior knowledge involved omission, thus defaming Gutjahr's by generating suspicion that his motives were for professional advancement. As the defendant explains,
In the eyes of Gutjahr and his lawyer, [I] suspected him of a crime under § 138 penal code (Strafgesetzbuch; "non-disclosure of planned crime"). "A far-fetched assertion. This was never the subject of my reporting, It was all about the abstract possibility of prior knowledge, so only about a cognitive process and the question of how the reporter could have been in two alleged terror locations or in the immediate vicinity within a week."
A verdict favoring Gutjahr's in Cologne was thrown out on appeal, with the higher court reminding Gutjahr that he must "accept critical illumination of his activities by his peers." In Wisnewski's view, "the case developed toward a judicial disaster for Gutjahr."
While their approaches differ, Gutjahr's case and the defamation actions of the numerous Sandy Hook parents share the same target, namely the free speech that prompts the public to question the sometimes unlikely narratives of government and its corporate media allies. If a verdict against America's biggest carnival barker can be secured everything beyond the pale of government and corporate news pronouncements becomes fair game.
Who benefits? Is it those who have something to hide? Who would rather cry, "Hate speech!" and thereby attack the messenger instead of having a fair debate where such speech, if it is truly without foundation might be confronted and dismantled once and for all?
In the case of Sandy Hook especially the petitioners employ an entirely different method, imploring the general public to viscerally identify with their persecution and suffering–with, as Kelly Jones puts it, those who "lost their children in the most horrible way," and who must thereafter be "harassed by [Alex Jones'] audience."
This dramatic plea combined with Jones' over-the-top "performance art" distracts everyday spectators from considering the events in question and, moreover, the "hoaxers" and "conspiracy theorists" who've raised the very questions that most salaried journalists have either long abandoned or must consciously dismiss for fear of losing their own livelihoods.
One thing is certain: Richard Gutjahr might have won his court case, if only the defendant was as eager to forfeit his free speech rights as Alex Jones appears to be.